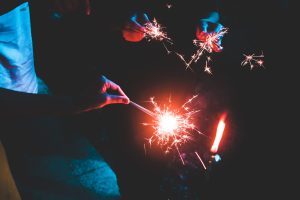 With our nation's 243rd birthday upon us, you are likely making plans to celebrate the fourth of July in style. Before you take off for the lake or open your doors for the biggest barbecue of the summer, here are some considerations for your home:
Leave fireworks to the professionals. According to ADT, nearly 50,000 house fires are caused by fireworks each year. Never make your own fireworks or let children handle explosives. In case you did not know, it is illegal to use or sell fireworks within the City of Austin. If you are in an area where you can set off your own display or if you use novelty items like sparklers and glow worms, remember never to point fireworks at any one, and only light these items in areas that are fire resistant.
Keep your extinguisher handy. Per your family's fire safety plan, you should have a working fire extinguisher. Be sure to place it within arm's reach, in addition to a bucket of water or your water hose. If you need to purchase a fire extinguisher, now is the time! Visit your neighborhood home maintenance store before the holiday.
Be the grill master, not a disaster. As you serve up your famous burgers, be sure your grill is at least two feet away from all surfaces. This includes fencing, decks, outdoor equipment, and yes, your home. Check propane tanks for cracks, holes and leaks which can cause unwanted explosions.
By following these basic safety tips and taking easy precautions, you and your crew can enjoy Independence Day in carefree fashion. Stay safe and Happy 4th of July!
Bonus tip: It's no secret that at Barfield, we love our pets and care about yours, too. That's why we encourage you to leave your pets at home during the festivities, provide a safe space where they can find shelter during raucous celebrations, and keep glow sticks and fireworks out of their reach. For other great safety tips for Fido, visit PetMD. https://www.petmd.com/dog/slideshows/care/fourth-of-july-pet-safety-tips