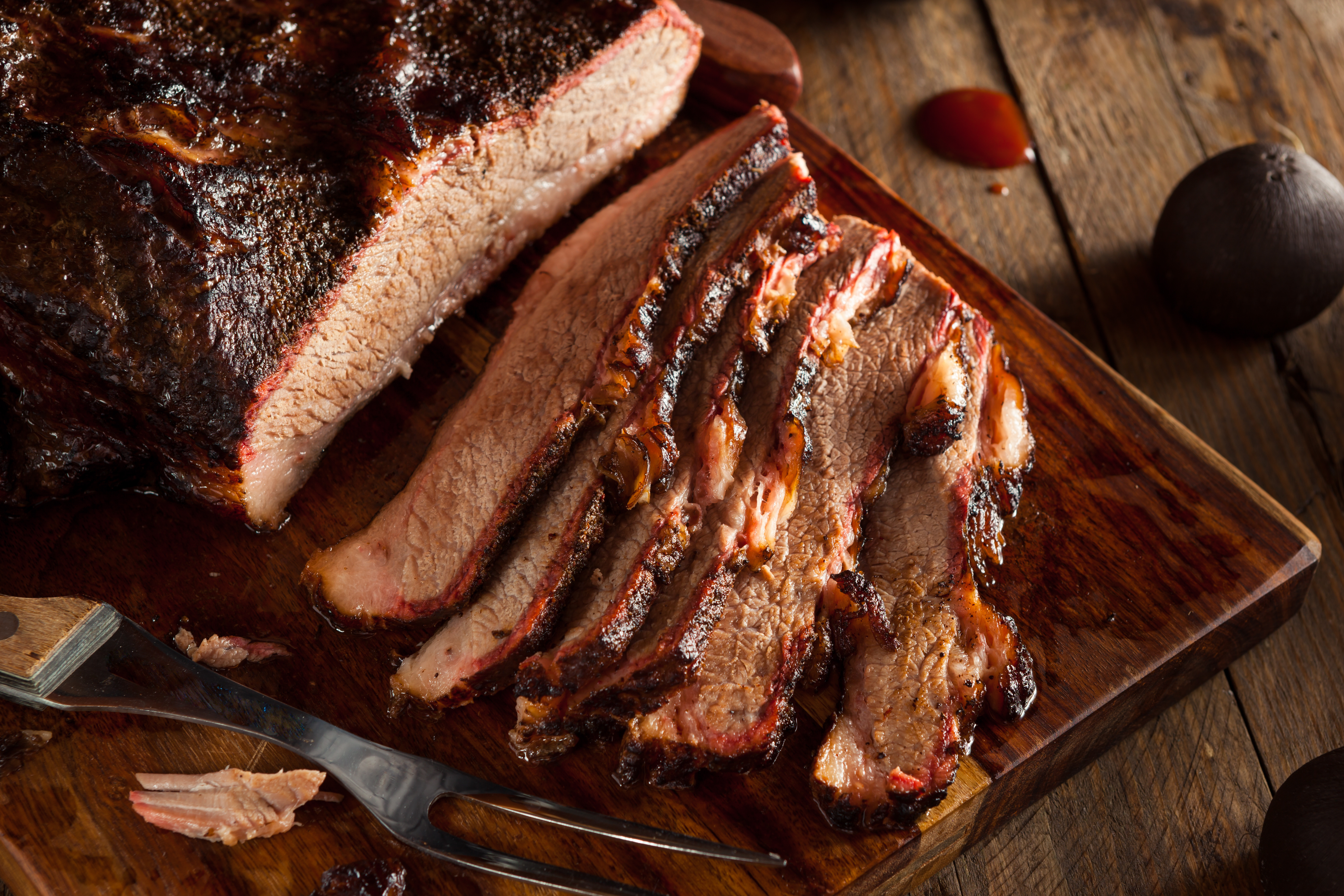 Happy fourth of July everyone! Get ready for some grillin' and chillin' for the holiday. Randy will be cooking up his famous brisket so we thought we would share the celebration with you.
When it comes to good Texas brisket, Randy knows the key is cookin' it low and slow. Roast at 1 hr to 1:30 minutes per lb. at around 225 degrees, until the internal temperature is around 200-205 degrees. See below for a borrowed recipe from Epicurious. If you want Randy's secret brisket recipe, you'll have to ask him yourself!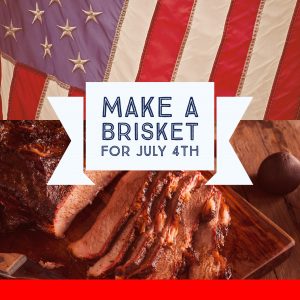 YIELD: Serves 12
INGREDIENTS
For dry rub
1/2 cup paprika
3 tablespoons ground black pepper
3 tablespoons coarse salt
3 tablespoons sugar
2 tablespoons chili powder
1 7 1/2- to 8-pound untrimmed whole beef brisket
For mop
12 ounces beer
1/2 cup cider vinegar
1/2 cup water
1/4 cup vegetable oil
2 tablespoons Worcestershire sauce
2 tablespoons minced jalapeño chilies
5 pounds (about) 100% natural lump charcoal
4 cups (about) oak or hickory wood smoke chips, soaked in cold water at least 30 minutes
1 cup purchased barbecue sauce (such as Bull's-Eye)
1 tablespoon chili powder
PREPARATION
Make dry rub:
Mix first 5 ingredients in small bowl to blend.
Transfer 1 tablespoon dry rub to another small bowl and reserve for mop. Spread remaining dry rub all over brisket. Cover with plastic; chill overnight.
Make mop:
Mix first 6 ingredients plus reserved dry rub in heavy medium saucepan. Stir over low heat 5 minutes. Pour 1/2 cup mop into bowl; cover and chill for use in sauce. Cover and chill remaining mop.
Following manufacturer's instructions and using natural lump charcoal, start fire in smoker. When charcoal is ash gray, drain 1/2 cup wood chips and scatter over charcoal. Bring smoker to 200°F. to 225°F., regulating temperature by opening vents wider to increase temperature and closing slightly to reduce temperature.
Place brisket, fat side up, on rack in smoker. Cover; cook until tender when pierced with fork and meat thermometer inserted into center registers 185°F., about 10 hours (turn brisket over for last 30 minutes). Every 1 1/2 to 2 hours, add enough charcoal to maintain single layer and to maintain 200°F. to 225°F. temperature; add 1/2 cup drained wood chips. Brush brisket with chilled mop in pan each time smoker is opened. Transfer brisket to platter; let stand 15 minutes. (Can be made 1 day ahead. Cool 1 hour. Wrap in foil; chill. Before continuing, rewarm brisket, still wrapped, in 350°F. oven about 45 minutes.) Combine barbecue sauce and chili powder in heavy small saucepan. Add any accumulated juices from brisket and bring to boil, thinning sauce with some of reserved 1/2 cup mop, if desired.
Thinly slice brisket across grain. Serve, passing sauce separately.
Recipe originally shared on Epicurious.com.