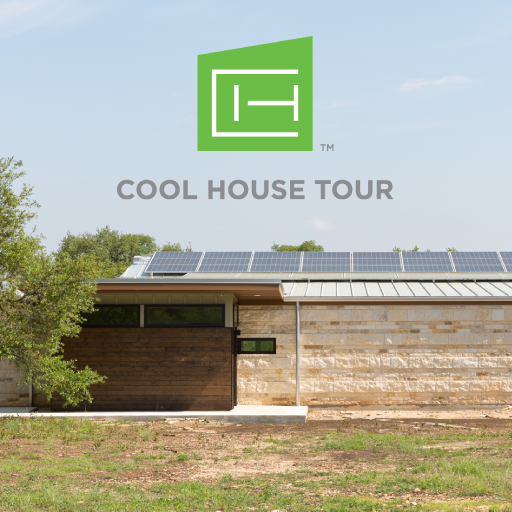 On Sunday, June 11, Barfield Home Inspection's owner and founder Randy Barfield had his home featured as part of the 21st Annual Cool House Tour, a collaboration of Austin Energy Green Building (AEGB) and the Texas Solar Energy Society (TXSES).
A home inspector like Randy Barfield sees thousands of houses each year and since 2003, Randy has seen it all. When it comes to homes, he knows what to look for. It's only natural that he decided to build his own home with his wife Keri a few years ago. It has been a lifelong dream to build an eco-friendly home with sustainable materials on land where he can relax and watch the sunset after a long day of home inspecting. Randy and Keri have spent years perfecting the floor plans and layout for their eco-friendly, modern home at 1100 Rutherford Drive in Driftwood.
The design of this home captures the wide open space of the Texas Hill Country in the midst of a rural subdivision. Each detail was planned and thought out using Randy's knowledge of what makes a home durable and long-lasting. The street facing side of the house has a double stone wall with minimal penetrations for privacy. The rear elevation features northwest oriented glass facing a 500-acre greenbelt that provides protected views and additional sanctuary. The northwest windows and sliding doors offer natural daylighting as well as indoor/outdoor living space with minimal heat gain. The southwest facing 16.5" thick stone wall blocks summer sun exposure, keeping the interior temperature stable, providing both comfort and lower energy bills. A carport/workshop/courtyard on the west side also protects the house from heat gain and provides future live/work flex space. A 10kW solar array complements the energy saving passive design and provides for most of the home's energy needs. A standing seam galvalume shed roof was designed to collect water efficiently and supply a 24,000 gallon rainwater harvesting tank for potable water and irrigation.
See photos and videos from the Cool House Tour on our Facebook page here: facebook.com/barfieldhomeinspection.