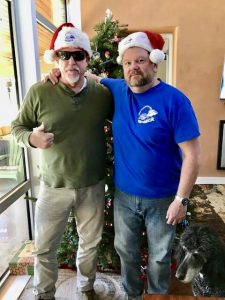 Here at Barfield Home Inspection, giving back to the community is important. It is also a great way to get in the holiday spirit. After all, giving is what the holidays are all about! This year, Randy and his friend Mike Chiconsky had the opportunity to deliver Christmas presents with Operation Blue Santa. Operation Blue Santa is a program through the Austin Police Department that provides toys and gifts to those in need during the holiday season. You can get involved by donating, adopting a family or volunteering your time. Operation Blue Santa is just one of many programs in Austin that is on a mission to make the holidays a happy time for all.
It is easy to get wrapped up in your own holiday festivities and forget there are families out there who are less fortunate. We want to remind you to think about others this Christmas and get out and do some good! See below for other opportunities to donate or volunteer your time during the holidays.
Many of these organizations have programs and accept donations year-round. Make giving back part of your holiday routine or even part of your monthly routine!
Salvation Army Angel Tree: Found in local malls, companies and churches, Angel Trees are decorated with numbered paper angel tags with the first name, age and gender of a child in need of gifts. Contributors remove one or more tags from the tree and purchase appropriate gifts for the child or children described on the tags.
Toys for Tots: A program through the U.S. Marine Corps Reserve, Toys for Tots collects new, unwrapped toys and distributes them to less fortunate children in the community as a message of hope.
Meals on Wheels: Provides home delivered, prepared meals for seniors and other homebound clients throughout the Greater Austin area.
Central Texas Food Bank: The Largest hunger-relief charity in central Texas that works with food donors across the country, financial supporters and volunteers to fill unmet needs in Central Texas.
HEB Feast of Sharing: Communities all over Texas host an Annual Holiday Dinner to provide holiday meals and good cheer. These free holiday feasts bring together family, friends and neighbors.